Disposable overalls are required for work environments where chemical, biohazard or dangerous dust exposure is a risk. Higher-grade versions of these suits, such as Esko's Titan 380 and 450 also protect against chemical jets and sprays.
For anything other than low-risk situations, you will need a Type 3-B level suit, or above.
While an approved chemical coverall will provide ample protection, careless donning and doffing procedures can still leave you vulnerable. You must make sure that you consistently follow proper decontamination procedures. Professionals should already be familiar with the process, but it is still important to revisit the guidelines. Here is a look at the basic procedure:
DONNING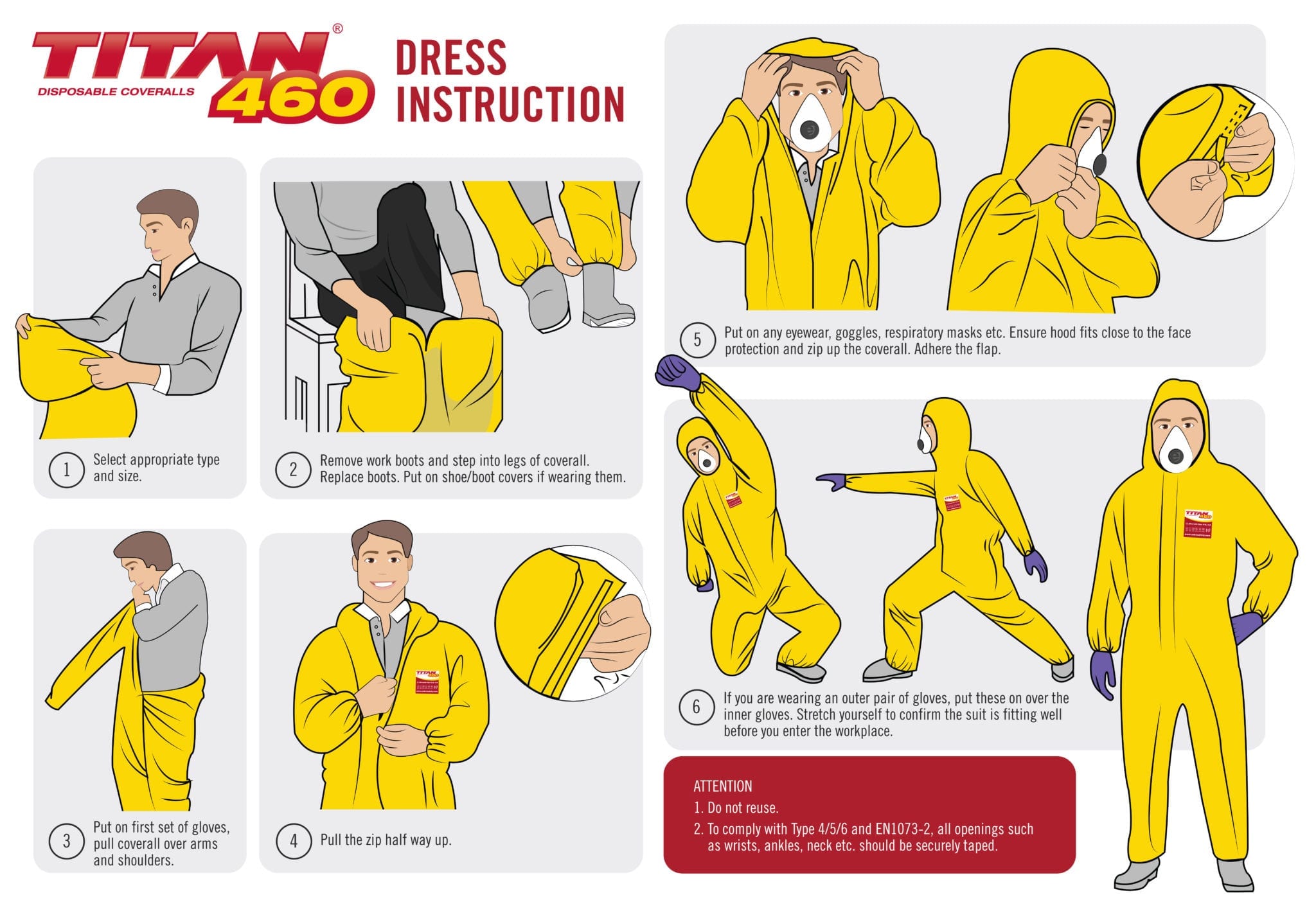 Click to get this infographic as a PDF
Prior to donning, and especially if entering high-risk situations, make sure that you are properly hydrated and that you have relieved yourself beforehand. Attempting to drink or to go to the toilet once your suit is on will risk contamination, unless you go through proper doffing procedures.
Begin in a contamination-free changing room. Once you're ready to wear the suit, inspect your coveralls—there should be no tears, gaps or holes in the suit. Remove any personal items such as keys, jewellery, etc, which could damage the coverall.
Follow a precise order when putting on the suit. First, while sitting down, remove footwear, open the coverall and insert one leg after the other into the garment legs, then put on shoes or boots back on. Put on your shoe or boot covers. Put on your first set of gloves, then stand and pull on the coverall, ensuring it is fitting comfortably and tucked into the inner gloves.
Before you zip up the suit, put on any eyewear, goggles, respiratory masks etc. Pull the hood over your head and zip up the coverall. If you are using an outer apron, put that on next, and if you are wearing an outer pair of gloves put these on over the inner gloves.
Joins can be sealed with adhesive tape, including around the gloves and between the hood and facemask (but be aware that taping can make the doffing process more difficult).
The last item should be your face shield. Stretch yourself to confirm the suit is fitting well then check your whole outfit in front of a mirror to confirm it is properly sealed.
It is very helpful to have a co-worker assist with this sealing and checking.
DOFFING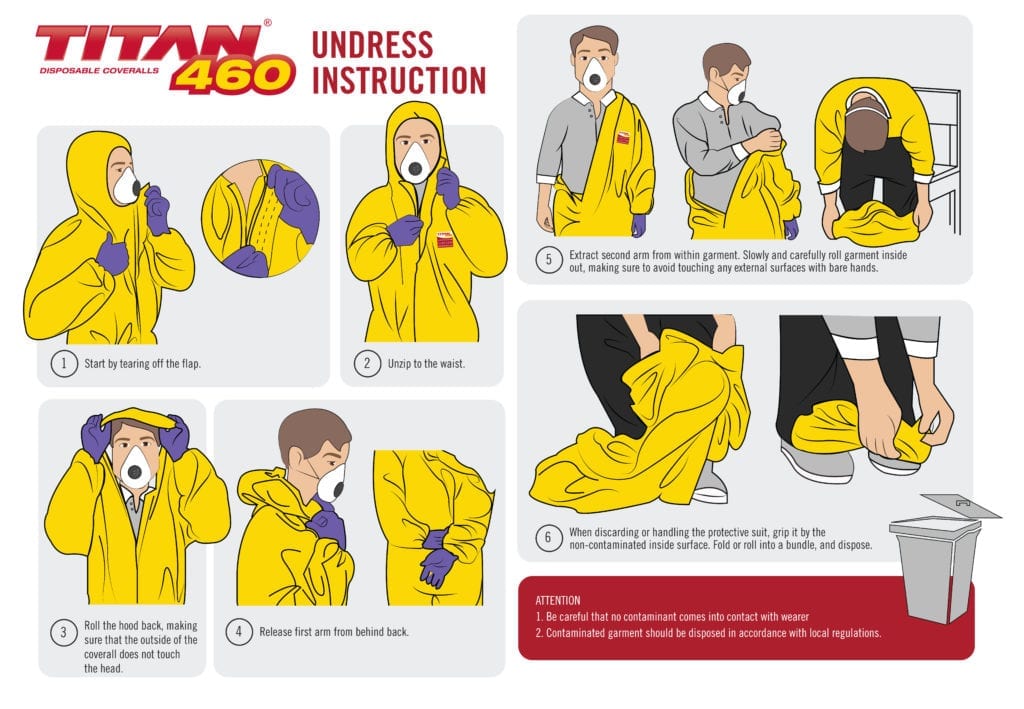 Doffing is a riskier process, which requires care at every step of the way to avoid cross contamination from the surface of the coverall to the wearer, or to other workers or family. The main principle is to ensure the contaminated outside of the coverall is not touched or brought into contact with the wearer's skin or clothing. When removing your layers of protection, slowly and carefully roll them inside out, making sure to avoid touching any external surfaces with bare hands.
The first thing you will want to do is to inspect the suit for contamination and tears. All contaminated areas must be cleaned and decontaminated. Any items removed, including adhesive tape, should be discarded into a waste container.
Begin by rolling the hood back, making sure that the outside of the coverall does not touch the head. Unzip the coverall and roll it outwards and downwards. Remove shoes, then roll the coverall down until completely removed. Finally, discard the suit in the bag provided and remove your gloves.
When discarding or handling the protective suit, grip it by the non-contaminated inside surface to prevent contact with any hazardous material.
Be sure to disinfect and shower after doffing your protective equipment.
Understanding the entire donning and doffing procedure ensures that you are safe and limit the risks involved.
For more information on our safety coveralls, contact us today.