Esko's guide to the different types of protective gloves
THE IMPORTANCE OF HAND PROTECTION
What's the most commonly used tool in a typical workplace? Actually, it's the human hand.
Our hands are called on do everything from heavy handling to precision finishing. Whether it's lifting, digging, hammering, operating power tools and equipment, or assembling products from minute to massive, our hands provide the critical connection between us and our work.
Keeping our hands fully functional means keeping them warm, dry and safe from physical hazards like abrasion, crushing, cuts, vibration and impact.
And as well as these physical dangers, many workplaces have risks of contact with harmful chemicals and biological hazards. Common materials like kerosene, detergent, grout and cement powder may seem benign, but exposure to them can trigger occupational dermatitis, leading to long term disabilities as the skin loses its ability to heal.
For NZ-focussed information on dermaitis risk and the importance of protection, click here, and for advice on the specific risks in the engineering and motor trades, click here.
Gloves don't cover a lot of area on the human body but they seriously help prevent the 25% of workplace accidents involving hand and finger injuries. And there is a huge choice of gloves available to cover the needs of any workplace.
HERE'S A GUIDE TO THE DIFFERENT TYPES OF PROTECTIVE GLOVE: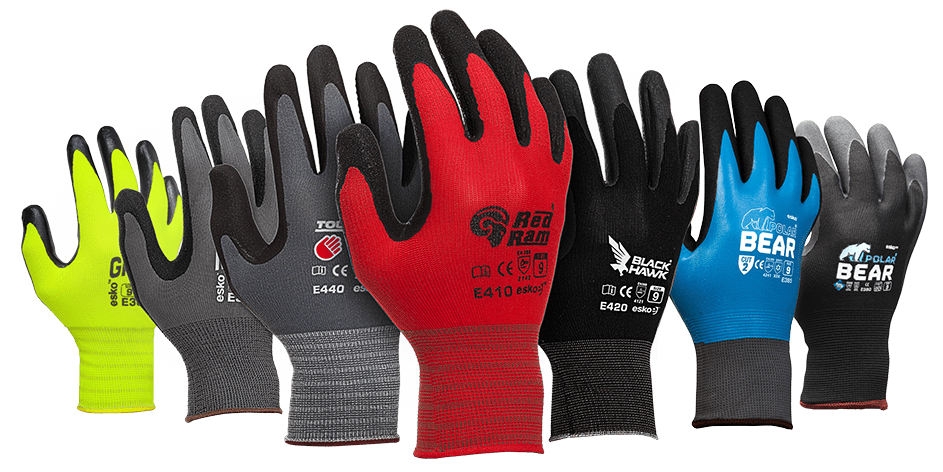 Coated gloves are created using a fabric stretched over a mould which is then polymer-dipped. Many different types of material can be used for both the base shell and the polymer dip. Typically, the shell can be made from cotton (low cost, comfortable), nylon (strong, cut resistant), spandex, also known as lycra or elastane (stretchy, comfortable), Kevlar (very strong, heat and cut resistant), polyester (good general properties) glass fibre (cut resistant) and acrylic (warm in cold environments). Some glove shells combine more than one of these fibres.
The dipping material can be nitrile rubber (strong, oil resistant), latex (low cost, grippy), PU (non-allergenic, puncture resistant, grippy without being sticky). Some coated gloves have raised microdots or texturing to provide additional grip. ESKO supplies the Towa range of gloves, which incorporate Towa's patented MicroFinish™ coating for high performance grip.
In the manufacturing process, the shell material can be dipped into the polymer to various depths and angles, resulting in coatings that are palm dipped (coated on the palm and fingertips), ¾ dip (fully coated on the palm and fingers but not the back of the hand) and full dip (whole glove coated).

ESKO's disposable gloves are available in natural rubber latex and synthetic nitrile rubber. Latex gloves give a close-fitting second-skin feel, while nitrile gloves are strong, more resistant to solvents and oils, and much less likely to trigger allergies.
The ESKO High Risk glove has a wall thickness almost three times thicker than standard disposable gloves and, as the name suggests, is designed to be used in situations where there is high risk from infectious agents.
The High Risk glove, together with ESKO's black and blue nitrile gloves, are medical grade gloves. The ESKO DLP latex glove is a quality general purpose glove. For more information, see ESKO's separately downloadable data sheets for disposable gloves.
Esko's High Risk latex gloves have a wall thickness almost three times thicker than standard disposable gloves and are recommended for use where there is high risk from infectious agents.

TOUCH SCREEN SENSITIVE GLOVES
ESKO has two gloves in the range with a conductive coating which allows the wearer to use touchscreen devices at any time without removing the gloves.
Capacitive touch screens rely on the conductivity of human skin to operate—ESKO's Grip-It and Touchline gloves (standard, not the grip-dot version) use the conductivity of the coating to enable this this even when wearing gloves.
No longer will your staff have to shed protective gloves every time they want to use a touchscreen device!

Long before modern synthetic materials were available, leather was the industry benchmark for safety gloves. Its many advantages are still recognised today; extremely durable; heat resistant, naturally insulating, yet breathable. Leather gloves are highly resistant to punctures, rips or tears during normal everyday work.
Today most heavy duty riggers-type gloves remain leather, and here ESKO's THE RIGGER glove has become an industry standard.
ESKO's riggers gloves are made from cowhide leather. The strong, smooth outer layer of the hide (or grain side) is used for premium leather gloves. The bottom layer (or suede side) is used for lower cost gloves. Suede leather still performs well but is not quite so strong, durable or dextrous as full grain leather.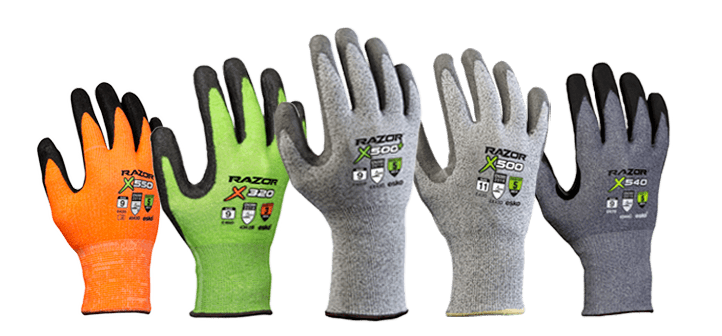 Cut resistant gloves incorporate tough glass, Kevlar or HPPE (high performance polyethylene) fibres designed to protect hands from scratches, cuts, and abrasions. They are rated Level 1–5 for cut resistance under EU standards.
Cut resistant gloves are the solution for workers using handling knives, sharp objects, scrap metal and glass. ESKO's Razor 300 and Razor 500 cut resistant gloves are constructed from HPPE combined with stretchy spandex fibres. They have approval certificates to meet the EU's stringent standards at Cut Level 3 (Razor 300) and the highest rating Cut Level 5 (Razor 500).
The Razor 550 glove (Cut Level 5) is constructed from hi-vis orange HPPE and glass fibres with a nitrile coating for superior grip.
ESKO's OmegaMax is a high performance Cut Level 5 rated glove with a liquid-proof double coating for wet and hazardous environments giving protection for the most extreme tasks. ESKO also offers the Razor 500 sleeve which gives Cut Level 5 rated protection where there is any danger of cuts to the forearm.
The PowerMaxx Ballistic glove is a special type of cut resistant glove, designed to give extreme hand protection to chainsaw operators. In accidental contact, 18 layers of Ballistic Nylon create a solid lock and halt the running chain, limiting injury to the wearer's hand.

CHEMICAL RESISTANT GLOVES
Chemical resistant gloves are essential in applications such as working with harsh and hazardous materials, food or fuel-handling, cleaning, in medical facilities, and with cold or wet applications.
Chemical resistant gloves may have a breathable inner lining for comfort and warmth in wet applications.
ESKO offers two chemical resistant glove products, the single dipped Red Shield and the double dipped Green Shield. In addition to its double dip, Green Shield has a textured finish for improved grip and increased resistance to oil, grease and chemicals, and is jersey lined for comfort and absorption.
Both types are offered in a 27mm glove and a 45mm gauntlet and both comply with EU standard EN374-3: Gloves Giving Protection from Chemicals and Micro-Organisms.
ESKO's Red Shield and Green Shield chemical resistant gloves achieve a Class 3 rating under EN374.

Mechanics-style gloves are commonly used by mechanics and racing drivers but these gloves are very useful for many other duties.
Typically, they are a fashionable-looking glove with excellent comfort, warmth and flexibility, made of soft leather or synthetic leather. They provide protection and warmth while using hand tools and indoor or outdoor power equipment, without compromising dexterity.
The ESKO PowerMaxx Active glove has EVA cushioning in the palm which provides vibration-dampening properties. This guards against the long term effects of repetitive vibration which can lead to debilitating injuries such as carpal tunnel syndrome.
Mechanics-style gloves are fashionable-looking gloves with excellent comfort, warmth and flexibility.

Leather, with its natural properties of durability, heat resistance and insulation, is the traditional material for welders gloves, as well as aprons, jackets etc.
Most welders gloves are made from suede split leather—a proven ideal material to protect hands from heat, UV arc rays, molten metal spatter, flying sparks and flame-ups.
The TIG welding process which utilises a non-consumable electrode produces lower heat and fewer sparks compared to other types of welding. TIG welding gloves can therefore be thinner than other welding gloves since dexterity is more important than heat resistance. The fingers of TIG gloves are usually made from calf or goat skin.
Most welding gloves incorporate Kevlar stitching. The exceptional heat resistance of Kevlar means the stitching stays strong even at high temperatures.
ESKO's Leftie glove pair contains two left-handed gloves and are designed to save on replacement costs, because most of the time the left-hand glove wears out first for a right handed welder.
Leather welders gloves protect hands from heat, UV arc rays, molten metal spatter, flying sparks and flame-ups.

Poly/cotton knit gloves are low cost, comfortable, breathable and non-allergenic. They are ideal for light manufacturing and engineering, component handling, assembly work, fruit picking and packhouses.
Poly/cotton gloves can be used as an under glove to provide comfort, absorbency and warmth under other gloves, such as rubber chemical resistant gloves. They are also used as an over-glove for extra grip in some applications.
The ESKO E100 glove is a plain poly/cotton glove; the ESKO E150 has PVC microdots for additional grip.
ESKO poly/cotton gloves are economical and comfortable, they can be supplied with PVC microdots for additional grip.