ESKO's range of traffic cones are made from high quality
UV-resistant PVC, flexible with high impact resistance.
They have excellent thermal performance, will not crack in low temperatures or collapse in high temperatures. ESKO cones are tested to pass the ASTM G154-12A UV resistance test and exhibit good performance in fading and ageing tests.
ESKO road cones are strong and durable, no special attention is required. Cones will spring back from most accidental strikes.
What kind of cones can be used for traffic management?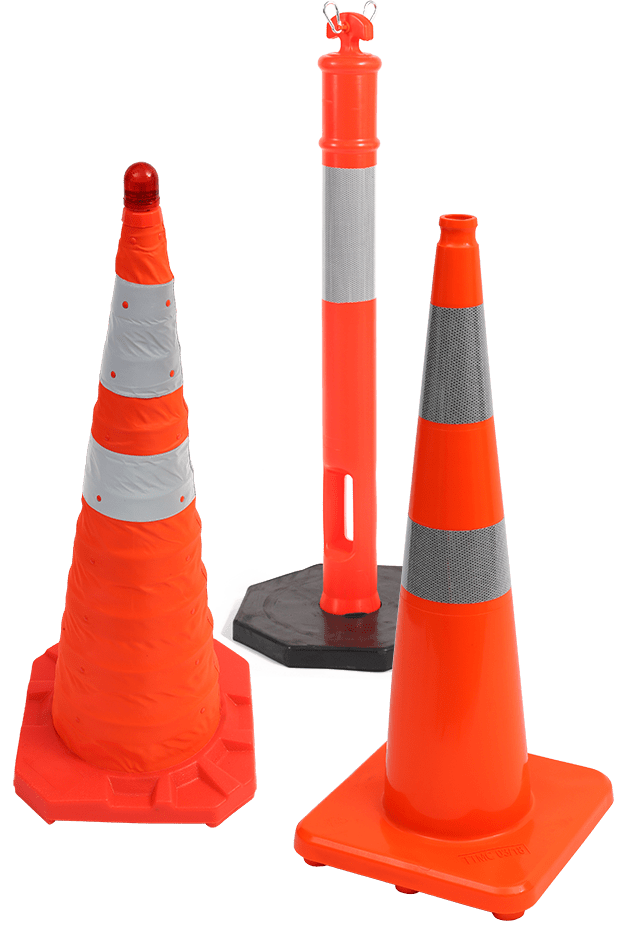 In New Zealand the selection, application and compliance of any temporary traffic control devices is specified very precisely by NZTA's 'Code of Practice for Temporary Traffic Management (COPTTM)'. This extensive set of regulations should be well understood by anyone responsible for traffic management in roading works.
NZTA will only permit the use of 900mm reflective cones on any New Zealand road, except in the case of cones used temporarily to protect roadmaking paint, when 450mm cones may be used.
COPTTM compliant cones must:
be sufficiently stable to remain upright in most anticipated service conditions
have a base designed to stop the cone from rolling if knocked over
be capable of returning to their original shape after impact
be made of a flexible polymer or similar material
ESKO's 900mm Highway cones meet the requirements of the NZTA 'Code of Practice for Temporary Traffic Management' (COPTTM), which states:
On all levels of roads the cones, tubular delineators and barrels used for delineation purposes must have a minimum height of 900mm and 'an unballasted weight not exceeding 7kg'; and also meet the COPTTM requirements for size and placement of retro-reflective bands.
In non-highway situations (carparks, schools, sports grounds, conferences, pedestrian walkways etc) smaller cones may be used.
For more information please visit the NZTA Website
Traffic cones can be used in many ways to:
Designate traffic lanes
Provide warning of possible road obstructions ahead
Mark off restricted areas and establish boundaries
Support cone bars to clearly channel pedestrian traffic
Support signage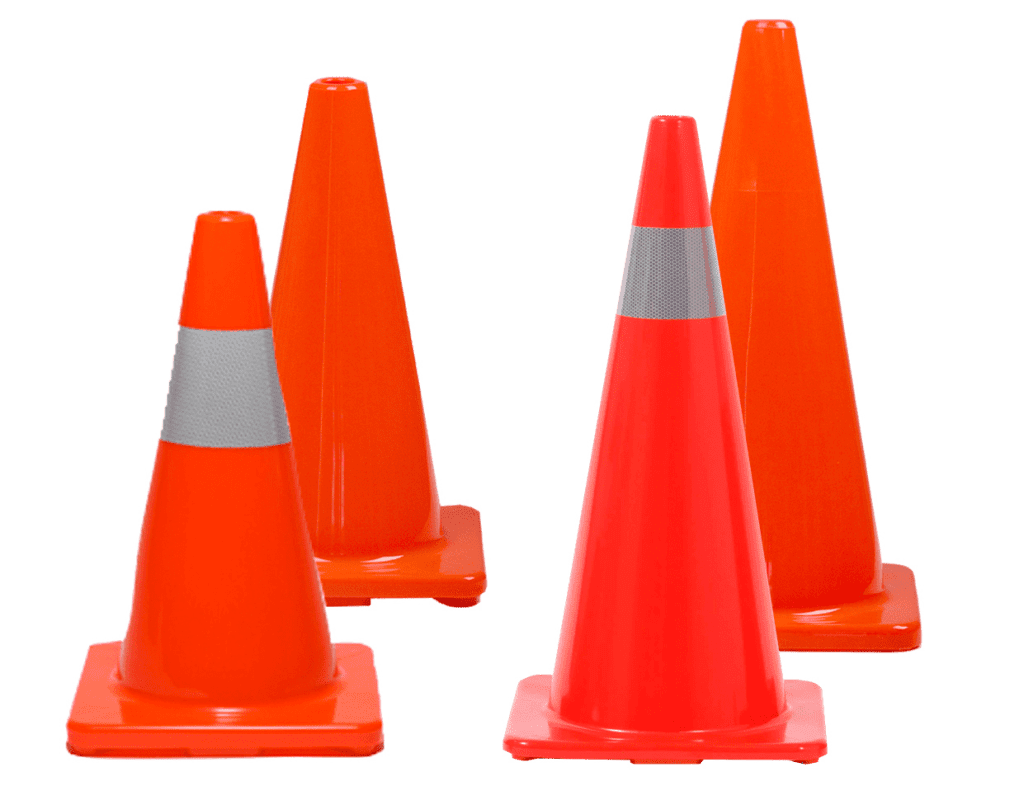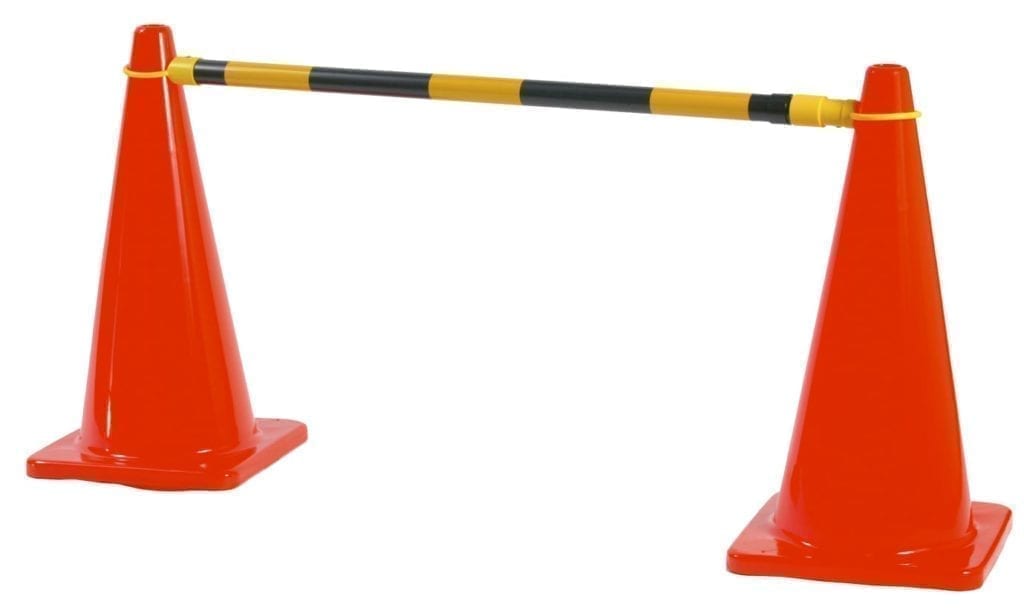 Cone bars can be used in conjunction with cones as delineation devices to channel pedestrian traffic. COPTTM says:
Light weight, striped orange and black or yellow and black plastic poles with rings at each end to connect cones together may be used to provide a channel for pedestrians on worksites where workers are in attendance. These must not be used to replace a safety fence.
ESKO bollards are rigid posts that can be arranged in a line to channelize traffic, close a road or restrict the width of a road or accessway. In conjunction with rope or plastic chain they can be used to delineate pedestrian traffic areas, enclose car free zones, or to create a safety cordon around road works or construction areas.
They can be used to control vehicle traffic and parking at events and other off-highway situations but are not NZTA compliant for highway use.
ESKO T-Top bollards flare outwards at the bottom to keep the post securely fastened within the rubber base. The T-shaped top of the bollard comes fitted with two carabiner fasteners to secure plastic chain or rope. It also has a bolt hole positioned in the middle of the handle which can be used to fit a flashing light if required. Made to AS/NZS Standard 1742 in high quality UV-resistant PE, they are flexible but with good performance and weather resistance, good resistance to fading and ageing. Post with handle design for easy take-down and setup.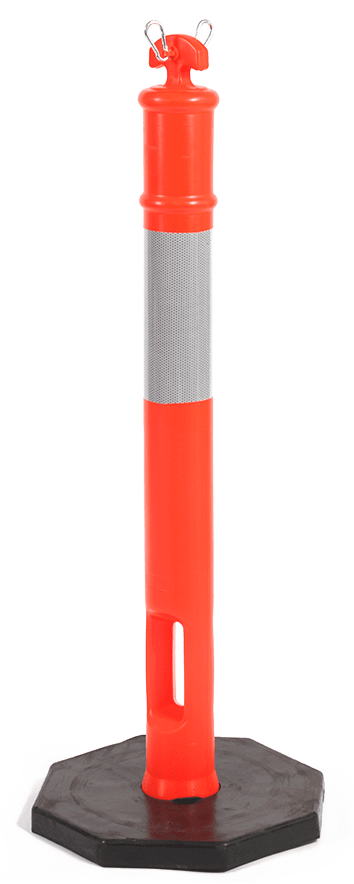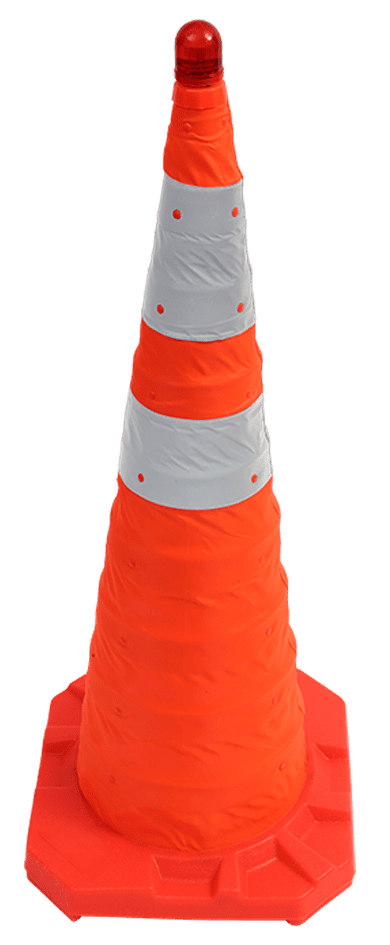 Collapsible cones are ideal where you have little room for storing road cones, especially for use in emergency vehicles and breakdown kits.
ESKO collapsible cones are the same height and dimensions as standard traffic cones but collapse down to 50mm or less in height, taking up minimal vehicle storage space. They are ideal for deployment in roadside emergency situations, but note that only the 900mm cone is NZTA compliant for regular road use.
ESKO's collapsible cones, are complete with a light in the base and a carry-bag. They are available in heights of 900mm, 700mm and 450mm.
ESKO's 1.85m Blockade UV-stabilised polyethylene water-fillable barriers are highly visible and ideal for fast deployment and retrieval. The flexi-pin joint enables them to be arranged from a 0-90o angle. They have forklift ports for transportation, even when water filled, a lamp security post and an attractive low wind resistance one piece design.
They are not compliant to NZTA M23:2009 (Specification for road safety barrier systems) for use as roading barriers but they may be used as a safety fence where:
The design and installation complies with the requirements of COPTTM
They are separated from any live lane by a minimum of a 1.0m lateral safety zone and a row of cones at the appropriate spacings
They are used in less than 65km/h speed environments