New Zealand's Glove Standards and What They Mean
WHAT ARE THE AUSTRALIA/NEW ZEALAND OCCUPATIONAL PROTECTIVE GLOVES STANDARDS?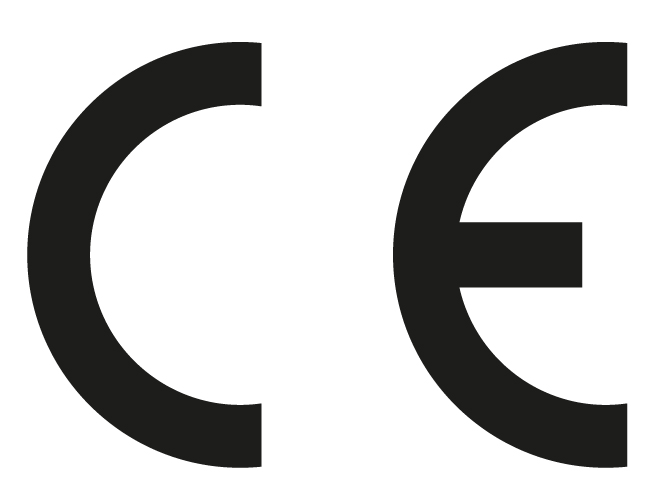 The AS/NZS 2161:2014 is the overall standard for New Zealand occupational protective gloves.
But because the EN (European Union) testing standards are so comprehensive, many countries in the Asia-Pacific region have adopted them. As a result, a number of New Zealand workplace safety standards are identical to those used in Europe (excepting recent changes from November 2016).
For example, the European standard EN420 is the same as AS/NZS2161.2:1. This standard sets out the requirements for all occupational safety gloves (except for electrical and medical gloves).
The CE marking is a conformity mark, which certifies that a particular product has met the European Union's rigorous consumer, safety and environmental requirements. All manufacturers of safety gloves sold in the EU must meet these requirements, including testing methods and marking rules.
DO ESKO GLOVES MEET EUROPEAN STANDARDS TOO?
ESKO has developed its glove range to meet industry requirements and standards.
Most of the gloves we sell comply with European Standards. Where applicable, each ESKO glove is assessed across a range of criteria such as abrasion resistance, cut resistance, etc. The glove is given a performance rating for a number of factors under the specific tests of the EN regime for each standard.
The EN system's markings convey very helpful information to any purchaser of industrial gloves.
Theglove's performance ratings are indictated by a shield-shaped pictogram. Below the pictogram a series of numbers indicate how well the glove performs in each of category.
Each category is explained in further detail below.
a guide to the ratings and pictograms used in THE EN standardS:

EN420 – General requirements
This standard defines the general requirements for protective gloves in terms of construction, fitness of purpose, safety, etc. The pictogram indicates that the user has to consult the 'instructions for use'.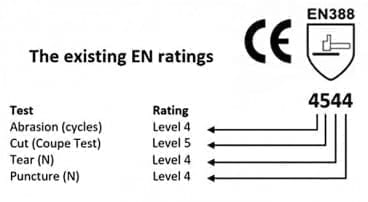 EN388
– Mechanical protection
Mechanical risk is the risk caused by abrasion, blade cut, tear and puncture to the wearer of the glove. Every glove is tested for its resistance against each of these risks and is given a numerical rating for each. The higher the number, the better the performance of the glove. The numbers under the shield give the glove's test ratings for its mechanical protection properties of abrasion resistance, cut resistance, tear resistance and puncture resistance. The pictogram below shows EN rating of 4544, the highest possible rating.
| | | | | | |
| --- | --- | --- | --- | --- | --- |
| Abrasion resistance (the number of cycles before an abrader breaks through the glove fabric) | | | | | |
| Blade cut resistance (Coupe test index based on the number of cycles it takes a circular blade to cut through the test sample) | | | | | |
| Tear resistance (the amount of force, in newtons, required to tear the sample) | | | | | |
| Puncture resistance (the amount of force, in newtons, required to pierce the sample with a standard-sized stylus) | | | | | |
WHAT ABOUT THE RECENT CHANGES TO THE EN TESTING REGIME?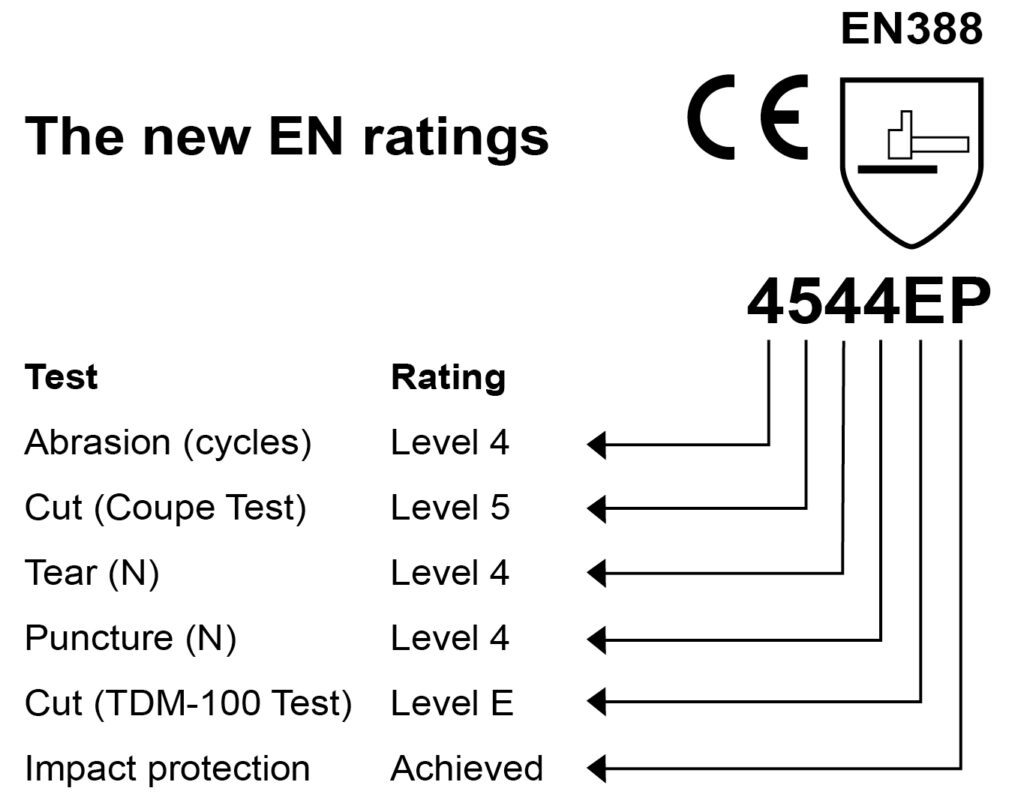 From 30 November 2016 some changes have been introduced to the EN regime, which are shown as two extra letters added to the numbers below the pictogram shield. These letters show the results of an additional test for cut resistance and a test for impact resistance.
The fifth symbol indicates the result of the ISO 13997 TDM cut resistance test. This test uses a sliding blade instead of the rotating circular blade of the Coupe test. The result of the TDM test is given in Newtons (N) and the glove is assigned a cut protection class on the basis of this value. This test is regarded as a more accurate guide to cut resistance in actual service and also brings the EN test methods partly into line with the US ANSI/ISEA standards.
The sixth symbol gives the result of a test for impact resistance, expressed as pass (P) or fail (no marking).
Until the new standard has been fully phased in, the existing four-digit EN 388 code remains valid for as long as the test certification of the product is current. It is important to note also that, although the EN 388 standard has been adopted outside of the EU, including New Zealand and Australia, these recent changes only apply within the EU until the new standard has been formally adopted by other countries.
THEN THERE ARE A SERIES OF ADDITIONAL TESTS FOR SPECIALISED GLOVES:
Impact
Cut
Protection from Impact Cut is tested for by dropping a metal blade weighing 1050g onto the glove from a height of 150mm. Performance for this test is rated as either Pass or Fail.
Static Electricity
The Static Electricity test indicates a volume resistivity threshold between 106 and 109 Ω cm. A glove meeting this criterion can reduce the risk of electrostatic discharges i.e. static sparks, a property useful in clean room areas and potentially flammable atmospheres. Performance for this test is rated as either Pass or Fail.
Micro-Oranisms
EN LEVELS ≥2
EN374 – Chemical and/or micro-organism protection
Performance levels
AQL (Acceptable Quality Level) for liquid penetration. A high index number indicates lower performance and a low index number indicates higher performance).
EN 374 Chemical protection
XYZ
Breakthrough time >30 minutes for at least three chemicals from this list (XYZ represents the code letters for three of these chemicals for which the glove obtained >30 minutes breakthrough time). In 2016 the standard was extended to add extra chemicals with code letters from M to T.
A. Methanol

B. Acetone

C. Acetonitrile

D. Dichloromethane

E. Carbon disulphide

F. Toluene

G. Diethylamine

H. Tetrahydrofurane

I. Ethyl acetate

 

J. n-Heptane

K. Sodium hydroxide 40%

L. Sulphuric acid 96%

M. Nitric acid 65%

N. Acetic acid 99%

O. Ammonium hydroxide 25%

P. Hydrogen peroxide 30%

S. Hydrofluoric acid 40%

T. Formaldehyde 37%
Chemical resistance against chemicals of choice (AQL <4)
This pictogram can be used in the case of gloves that do not meet the above requirement and have an AQL of two or lower.
EN407 – Heat protection

ABCDEF
| | | | | |
| --- | --- | --- | --- | --- |
| A. Resistance to flammability (after flame and after glow time) | | | | |
| B. Resistance to contact heat (contact temperature and threshold time) | | | | |
| C. Resistance to convective heat (heat transfer delay) | | | | |
| D. Resistance to radiant heat (heat transfer delay) | | | | |
| E. Resistance to small splashes of molten metal (number drops) | | | | |
| F. Resistance to large splashes of molten metal (mass) | | | | |
EN381-7 — Chainsaw Gloves and Hand Protectors
Items which resist cutting at a chain speed of 16 m/s (metres per second) are classified as class 0, which is the typical level selected for hand protectors, gloves, upper body protectors and gaiters. Chainsaw protective products of class 1 are tested at a chainsaw chain speed of) 20 m/s.
EN511 — Cold protection
ABC

The EN511 test gives a standard for gloves designed to protect against cold conditions down to –50 °C. The relevant Australian standard for cold protection is AS/NZS 2161.5:1998, which has similar ratings but uses different test methods.
The 'cold hazard' pictogram is followed by a series of 3 performance levels, shown as three numerals. The first figure (a rating of 0 to 4; higher numbers represent better insulating capacity) rates the insulation properties of the glove to resist convective cold—basically heat loss into the surrounding atmosphere. The second figure (also a 0 to 4 scale) rates resistance to conductive cold—heat transfer when the glove is touching or holding a cold object. The third figure is a pass/fail rating for water penetration after 5 minutes of exposure, with 1 representing a pass, 0 a fail.
These figures give a scientific measurement of the glove's insulating properties but, in practice, suitability of any particular gloves for cold conditions will depend on several factors, including ambient temperatures, the activity level of the wearer, moisture levels and wind speed.
| | | | | | |
| --- | --- | --- | --- | --- | --- |
| A. Resistance to convective cold Thermal insulation ITR in m2 °C/W | | | | | |
| B. Resistance to contact cold Thermal resistance R in m2 °C/W | | | | | |
| C. Water penetration test | | | | | |
EN421 — Radioactive contamination + ionizing radiation
Gloves protecting from direct contact with radio-active substances.
Gloves protecting from direct contact with radiation (X-ray, alpha-, beta-, gamma- or neutron radiation).
The three risk categories of the EN standards system
The EU's PPE directive 89/686/EEC divides protective gloves into three categories depending on type and which risk or danger the gloves should protect against:
Category 1
Gloves of simple design, for minimal risks only.
Example of gloves in this category are household gloves used for cleaning and for protection against warm objects or temperatures not exceeding +50° C.
Additional gloves in this category can include light-duty gardening gloves or other work where the risk for injury is minimal.
Category 2
Gloves of intermediate design, for intermediate risks. Gloves are placed in this category when the risk is not classified as minimal or irreversible. The gloves must be subjected to independent testing and certification by a Notified Body, who then issues a CE marking showing the gloves' protective capacities. Only these approved bodies may issue a CE mark, without which the gloves may not be sold in the EU. In this category you will find general handling gloves requiring good puncture and abrasion performance according to EN 388.
Category 3
Gloves of complex design, for irreversible or mortal risks
Gloves in this category are designed to protect against the highest levels of risk, for example highly corrosive acids. Gloves in this category must also be independently tested and certified by a Notified Body (approved by the EU commission).