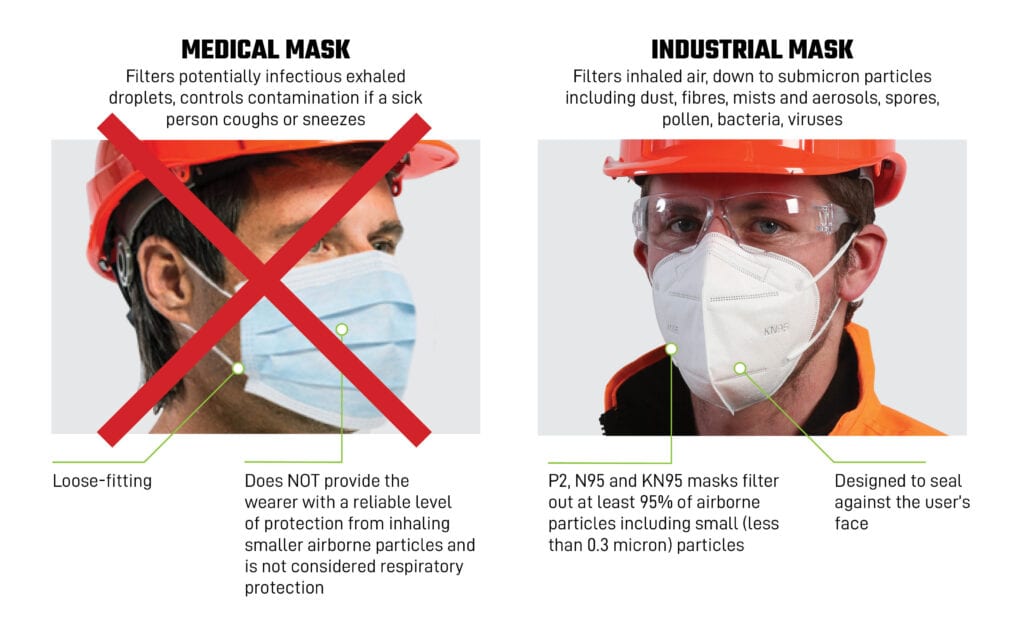 With certified masks hard to find currently, some tradespeople have turned to using medical masks as a substitute.
Is this a safe practice?
It's important to understand that medical masks are largely designed for a different purpose to industrial disposable masks. Essentially, one is designed to filter what you breathe out, the other is designed to filter what you breathe in.
In medical situations, especially in an operating theatre, it is vital to ensure that the patient is not accidentally contaminated. That's the main purpose of medical masks—to avoid any risk of exhaled droplets causing infection during a surgical procedure or to a patient with low immunity; or to control contamination if a sick person coughs or sneezes. 
Unlike industrial masks, medical masks are looser fitting. They do not effectively filter small particles from the air and do not prevent leakage around the edge of the mask when the user inhales. They provide barrier protection against droplets including large respiratory particles.
The P2 or N95 rated masks that are generally used in industry, are designed to be close fitting to the wearer's face and filter out 95% of very small (less than 0.3 micron) particles from the air that the wearer breathes in.
Obviously it's better to use a medical mask than no mask at all—but this should be avoided, and definitely not with dangerous dusts like silica. Even in the current shortage industrial quality masks are still available, though sometimes not easy to find. Esko can point you to sources who will have stock.
Because of the current demand, AS/NZS certified P2 masks are hard to find but American NIOSH N95 and Chinese equivalent KN95 rated masks provide an almost identical (arguably slightly higher) level of protection. See this chart for a detailed comparison of the various international standards.
Prices are likely to be higher than previously—this is not profiteering by your supplier but reflects the fact that international supply chains have been disrupted, demand has surged to unheard of levels both for the base nonwoven fabric and for the finished product, governments have commandeered supplies, and most currently available stock will have air freight costing included in the price.
In these unusual times, having the right PPE is more essential than ever.